Puerto Portals Pharmacy
In 1989, after many effort and years of hard work I founded with great enthusiasm this Pharmacy.
It was not an easy start but with the support of our neighbourhood, the loyalty of our clients and our hard work we managed to evolve in this project until today.
I even managed to spread my love for this profession to my daughter and make it a family business.
Professionality
Our highly qualified staff will find a solution for your problems.
Continuous training
We continuously update our knowledge in current health topics
Service
We want to offer the best pharmaceutical service. Consult your health concerns to us.
Our target is your wellbeing
Our team
Our team´s priorities are professionality, reliance, and proximity.
The continuous training and knowledge updating is the basis of our work.
New products appear constantly in the pharmaceutical market. Our concern to discover and offer them to our clients demands us to keep our knowledge updated.
Magdalena Serra
Farmacéutica Titular
Paloma Serra
Auxiliar farmacia
Catalina Ferragut
Auxiliar farmacia
Maria Trabada
Farmacéutica
Esperanza Cadena
Mantenimiento
Our Services
Caring for your health and wellbeing is our final goal. We aim to do so in a close, very professional and personalized way.
In order to achieve this target we offer you a wide range of services designed to maintain a good state of health and detect possible health alterations.
Cardiovascular control risk factors
Blood pressure control, colesterol, sugar an Tryglicerides testing.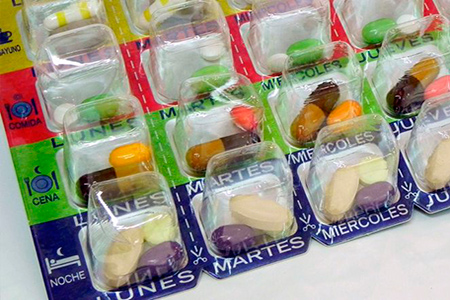 Pill box
Simplify your medication courses: we organize your medication in a weekly disposable Pill box.
Pharmaceutical product formulation
We formulate the pharmaceutical products prescribed by your doctor.
Water analysis
We analyse water to check if it is suitable for human consumption.
Dermathological advice
We help you to have a healthy skin .
Smoking cessation
We help you quit your addiction to smoking.